By Joe Lemire
May 1, 2018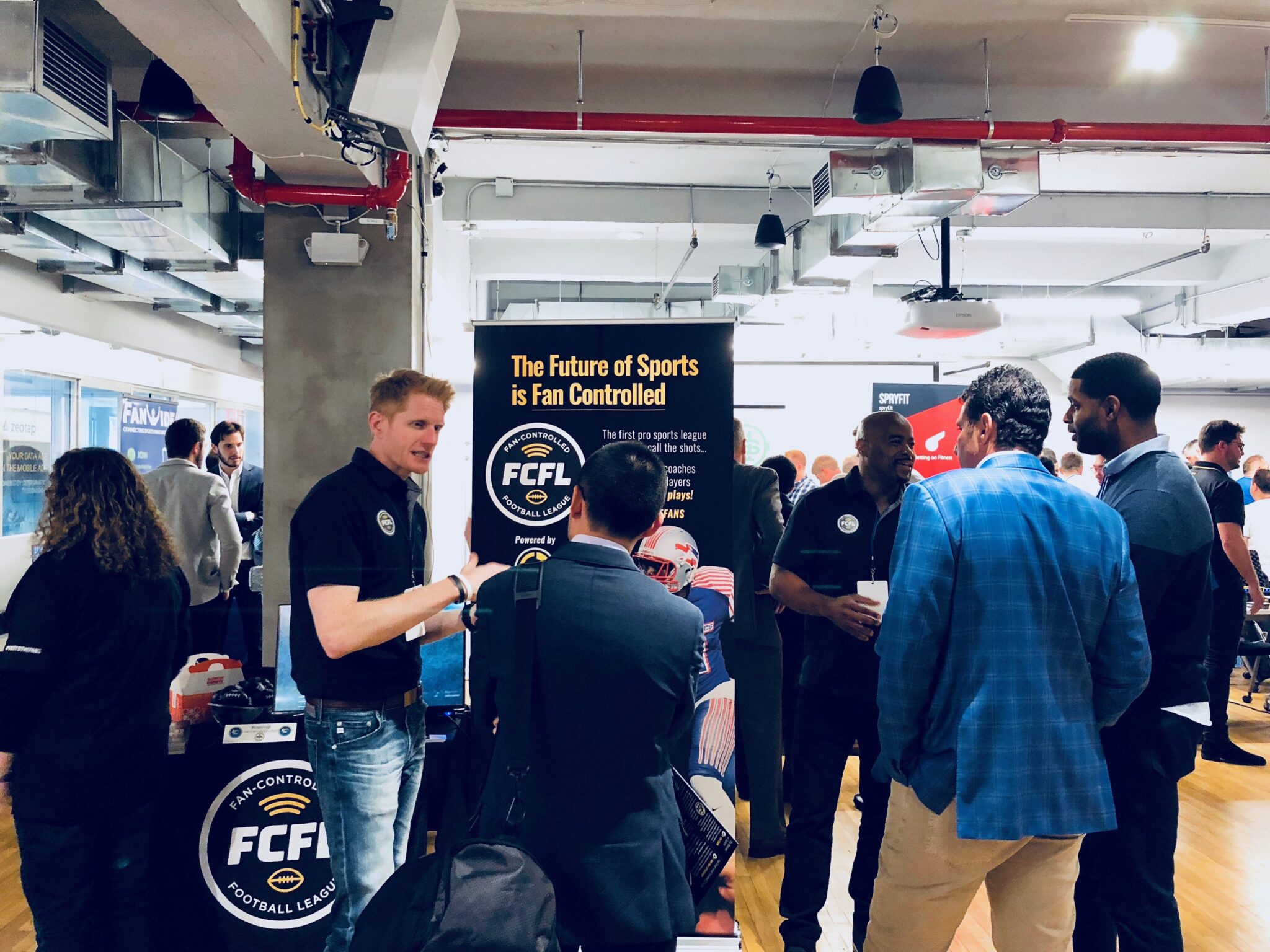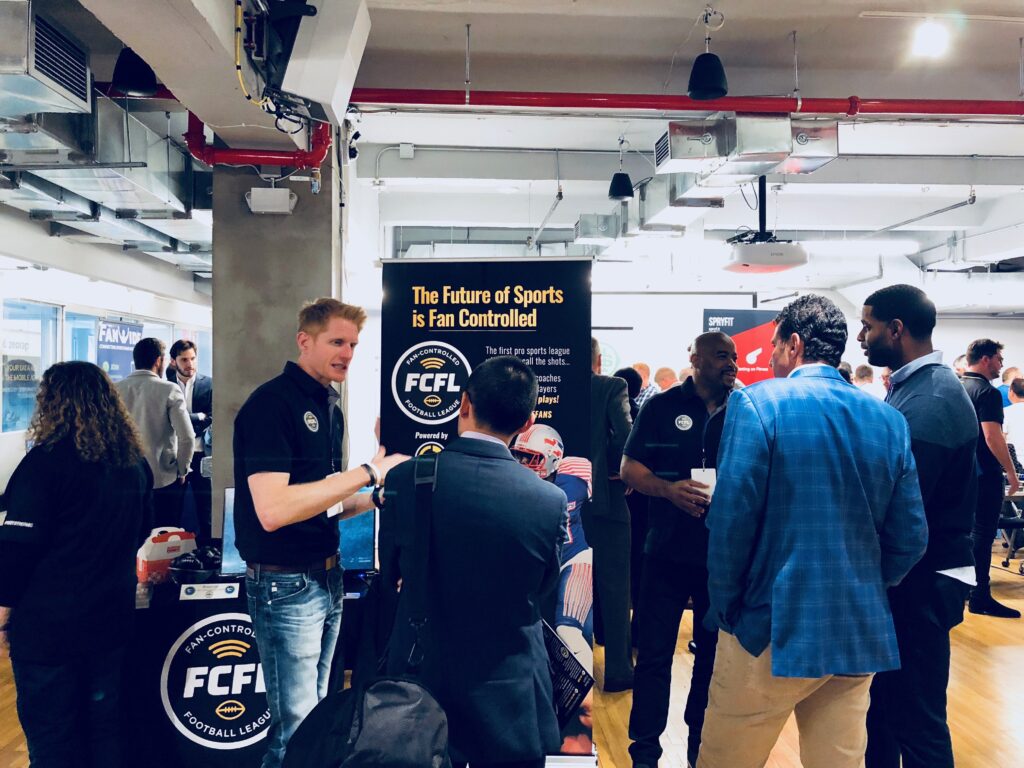 NEW YORK — Ray Austin played three years in the NFL before joining the Screen Actors Guild and filming TV series and commercials for more than a decade. Last fall, his new job as commissioner of the Fan-Controlled Football League took him to some unexpected places.
"I've spent my time on the field since I was eight years old, but now I'm at a Blockchain convention," he said. "I was at Blockchain conventions all over the country talking about Blockchain. I was like, man. And it was just literally only eight months ago learning that business. It's incredible — just keeping up with technology, all the wearables, augmented reality, VR. All of that is going to be the next generation of sports."
Austin was appearing at Next Gen Arena, a showcase hosted by TPG Sports Group and powered by Xperiel that invited 30 early-stage sports tech startups to pitch their products to industry insiders in advance of this evening's Sports Tank event.
SportTechie went around the room and conducted a one-question survey of about half the sports tech entrepreneurs and asked, "What is the biggest challenge facing a sports tech startup in today's market?"
While some of the answers were as varied as the technological innovations, the two predominant themes were securing investors and scaling to market — in other words, primarily business concerns rather than sports or technology concerns.
Of the 14 respondents, five votes deemed fundraising the biggest hurdle, four went to scaling and distribution and one each to technology, regulation, people, manufacturing and prioritizing the right focused niche.
Fundraising
*HitCheck works to identify concussion symptoms on the sideline, and its co-founder and CEO Mike Piha — a veteran of Silicon Valley — said his experience raising capital for this company has been slower going than for other startups.
"It's a new industry. It's not an industry that's been seasoned and has been around," Piha said, adding: "On the other side of the coin, it's emerging. It's a new, emerging market as the smart ones are finding out."
*MVP Interactive creates interactive in-venue experiences, and its founder and CEO, James Giglio, said most teams leverage brand equity more than they invest in startups.
"Finding people who believe in the product enough to underwrite it," he said of the challenge, adding that the best way to break through is to "show value through sponsorship."
*RecCenter seeks to connect all segments of recreational sports — facilities, leagues, teams and players — through a social app. CEO Shahar Chaskelevitch talked about the challenge of attracting investors to the amateur sports market.
"People really don't understand yet how big the potential is because a lot of this industry is just not documented," he said. "It's a lot of cash transactions, so people don't realize how much money is exchanged in this world."
*GameOn is working to bring a game like HQ Trivia to sports. Founder and CEO Matt Bailey talked about the struggle of being noticed among the crowd of other startups.
"So many people are looking for funding," Bailey said. "So many people have a great idea. It's really challenging to stand out in the landscape. It's exciting for us as well because it's the first event of this kind that we've been a part of."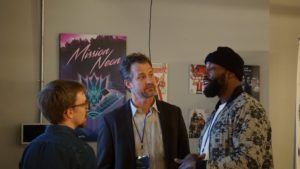 Scalability
*GameStrat produces fast, reliable video that can be immediately accessed on the sidelines. Its founder and CEO, Tunch Akkaya, said he's looking for strategic partners to grow but, for now, is making a digital media play to attract interested parties and customers.
"The biggest challenge is obviously growing and building your distribution channels," he said. "Depending on who you are and what connections you may have, having the channels as a startup is the toughest thing, I would say."
*QUS is an Austrian company that makes a washable wearable that can track both heart rate and respiration, among other metrics. QUS shareholder Maximilian Seidel was on hand at the Next Gen Arena Event.
"The same challenge for everybody is scalability," he said. "We have new technologies but it's not just important to have the technology but you have to sell it to the market. There are many, many smart brains here, and maybe they have come up with the same idea, so you have to be fast."
*Spryfit offers fitness challenges with wagers attached. Founder and COO Chris Choi tried cold calling and cold emailing to build up their contact base, but couldn't get replies. He says the Entrepreneurs Roundtable Accelerator program in New York helped Spryfit begin to build their network.
"It was very hard without connections," Choi said. "I couldn't contact any directly."
Fundraising/Scalability
(Note: Two companies described both fundraising and scaling as the biggest hurdle, so they were counted as a half-vote for each.)
*Plaay uses patented number-recognition technology to auto-produce highlight reels. Its head of business development, Charlie Boyar, said there is so much competition in a wide-ranging, disparate marketplace. He pointed to the unrelated monitoring technology at the next booth and asked rhetorically, "Who knew there was a gap in the marketplace?"
"I think scaling and clearly financing," Boyar said. "It's just such a huge market. It's massive. Youth sports, college sports, professional sports — you've got the gamut covered."
*Silofit seeks to provide on-demand fitness centers for workouts. CEO Wilfred Valenta said that a key challenge has been raising capital from someone who, ideally, has some background in both sports and real estate.
"It's finding the right sports-related investor who will bring us value in the background that we need plus the cash," Valenta said.
Technology
*The FCFL will allow fans to call plays and make personnel decisions to make real football more like a football video game. Co-founder and Commissioner Ray Austin explained that entrepreneurs need both a good idea and the technology to make it work.
"Just being current with the technology," Austin said. "I think you can have a great idea, a big idea, but the technology has to align with that at the same time. We're creating two companies at the same time — an actual football team and an actual tech company."
Regulation
*Starting 11 is a daily fantasy soccer contest that mimics the real sport by permitting live substitutions during games. The app is currently active in the U.K., U.S. and Canada, but co-founder and CEO Teague Orgeman explained that the Supreme Court's upcoming ruling on single-game sports gambling could shift the marketplace considerably.
"The biggest challenge to make it for a fantasy app or for anyone who's in the gaming space right now is regulation," Orgeman said. "It's the No. 1 variable. If you want to be a start-up, you've got to have all those ducks in a row right away."
"You have to integrate the regulation into your app early, or otherwise you're dead in the water," added co-founder, CMO and general counsel Amanda Heyman. "So, three of us are lawyers, that's good."
People
*Sports Performance Tracking is an Australian company that offers an affordable GPS tracking wearable and platform. The company has grown to 15 people, and, according to co-founder and CEO William Strange, is pending expansion into the U.S. once the right hire is made.
"Whether it's sports technology or not, I think it's people," Strange said. "Finding the right people, wherever you are, is the most challenging and the most crucial component to any business."
Manufacturing
*Recoup offers a cold roller for ice and massage therapy (and soon will add a heat therapy product). Founder Matt Hyden said finding the right manufacturer can be challenging and costly for a startup with no experience in that area.
Hyden called that process very difficult, before adding that Recoup's experience with the Quake Capital accelerator led to a new supply line that will help reduce the consumer price by 30 percent this summer. "Now we have brand-new manufacturing, and everything is way smoother."
Focus
*MaxOne is an all-in-one coaching app where trainers can assign workouts and drills to players and track the results. It was founded by Jason Mejeur, a high school and college coach who wanted an app that would allow him to do all of that with a single system.
"I think priority," he said. "There is so much opportunity out in this space that, knowing where to focus both from a feature/development standpoint as well as partnership/distribution standpoint."
Of the 30 companies in attendance, only two — FlipTix and FCFL — moved on to compete in Sports Tank, but there may still be opportunities for many of them to help each other down the line.
"We want to be an incubator for all sports technology," FCFL's Austin added. "These guys are competitors but, at some point, they might be allies, too."