Posted on February 21, 2023
By: Camryn Henry National Sports Forum
DESCRIPTION:
In the new digital age, there seem to be limitless opportunities for enhancing the fan experience. Sports teams and leagues are taking advantage of these opportunities to create unique, unforgettable experiences that are more immersive and hands-on. The Columbus Blue Jackets, in partnership with MVP Interactive, are reimagining their own game-day experience at Nationwide Arena with the launch of their new interactive space — the Columbus Blue Jackets (CBJ) Fan Zone. This 4,000-square-foot space is located outside of section 118 of the arena and overlooks the team's practice facility. It consists of three main areas: the Esports Lounge, the "stick-in-hand" challenge spaces, and the morphing stations.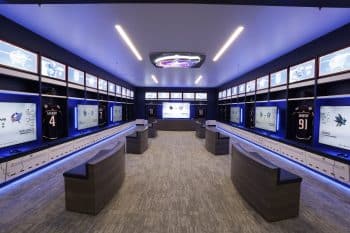 The Esports Lounge is designed to replicate the team's new locker room and has 7 Xbox stations where fans can play the latest NHL video games. The lounge is decorated with player jerseys and helmets and serves as a great place for a photo-op and hosting Esports events. The stick-in-hand component of the Fan Zone is the interactive element of this space that allows fans to participate in two different challenges: The Slapshot Challenge and the Goalie Challenge. The Slapshot Challenge gives fans the opportunity to use a real stick and puck and either take shots on a goalie, practice their aim with target practice, or test their speed.
The Goalie Challenge allows fans to gear up and block shots from a virtual player, where foam pucks shoot out from a projector screen. Both challenges use sensors and artificial intelligence to track performance and score. Fans can also download a photo of their experience and share it on social media. At the morphing stations, fans can pose next to their favorite players virtually and snap a photo of themselves wearing a digital Columbus Blue Jackets jersey.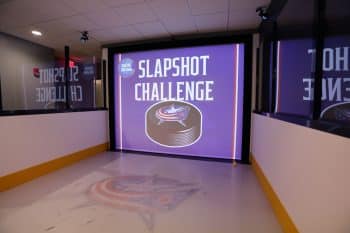 All fans who purchase a game-day ticket have access to the Fan Zone at no additional cost. Fans can register online and receive a personal QR code to use as entry into the space. Inspired by other arenas and hall of fame museums, the Fan Zone is a first-of-its-kind in the NHL. Ryan Chenault, VP of Marketing, for the Columbus Blue Jackets, explained, "This space is unique in the elements that it combines into one space and there is nothing really like it that we are aware of."
The Fan Zone was launched in early 2023, beginning with a handful of soft launches in mid-January. It has since been added as one of the stops on behind-the-scenes tours and is quickly becoming a significant part of the Columbus Blue Jackets team, their arena, and the fan experience.
OBJECTIVES:
To celebrate the arena's 20th anniversary, the Columbus Blue Jackets looked to revamp the space and take their game-day experience to the next level. When designing the Fan Zone, the team wanted to ensure that this idea would appeal to fans of all ages and introduce the game of hockey in a new way. Providing an interactive space that would draw in current fans, attract new audiences, and encourage user-generated content was top-of-mind when developing the Fan Zone.
One of the objectives behind the design of the challenges was to create an experience that would make fans want to come back. Using advanced technology to accurately record each participant's performance, fans become eager to visit the Fan Zone again to try and beat their last score. The team also wanted to be able to learn more about their fans from new data collected from the Fan Zone.
Having this technology integrated into their current CRM system helps build their fans' customer profiles and allows the team to tailor certain messages to fans based on that data. Ryan explained how they could use this data to better understand and target their fans, he said, "If we see that someone may not be a season ticket holder, and this is the sixth or seventh game that they have visited the Fan Zone, maybe there is an opportunity to put ticket plan information in front of them."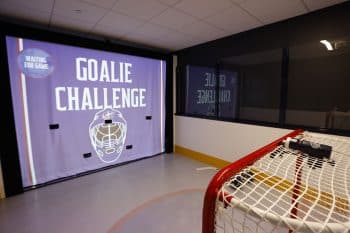 The overarching goal of the Fan Zone is to enhance the entire experience for anyone who enters the Nationwide Arena. With the ability to save and share pictures from the morphing stations and videos from the challenges, this experience can live beyond just game day. Although a space created for all fans to enjoy, it is especially appealing to those looking to get their hands on new technology and experience moments worth sharing on social media. "We are always looking at trying to grow the next generation of fans," Ryan said as he shared the team's excitement to keep up and stay fresh with the latest technology.
PARTNERSHIP:
Prior to the pandemic, the team had started vetting potential partners. They were looking for a "one-stop-shop" that could bring all this new technology together and integrate it into their existing CRM system. They wanted to find a partner who could successfully implement their vision and who would be as passionate about the project as they were. MVP Interactive could do just that and had a lot of prior experience across teams and leagues. The design and development of the Fan Zone began in early 2022 and spanned over a 12-month period.
The Columbus Blue Jackets and MVP Interactive's partnership is ongoing, with MVP Interactive providing software updates and maintenance to the space as needed. They also plan to upgrade and add features to this space in the seasons to come and as they receive feedback from fans. "We are both vested in this experience long-term, and we are always going to look for ways to continue to enhance it," Ryan shared.
RESULTS:
The Fan Zone has seen great success so far with several thousand fans entering the space the week that it was opened. This new attraction has also caught the media's attention. In its opening week, the Fan Zone received multiple hits in both local and national media and reached a:
Total Online News Audience of 21,732,999
Total Local TV Audience of 118,634
Total of 65,300 Social Media Followers
Additionally, the team was able to capture hundreds of unique emails from fans who registered and used their QR to scan in.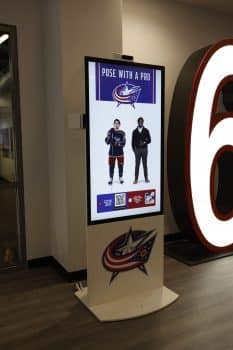 LOOKING AHEAD:
There are many exciting things to look forward to in the years ahead. With this being the Fan Zone's first season, it is expected to continue evolving. The team anticipates more integration with the launch of their new app after this season, as well as additional enhancements to the arena — especially as the team reaches its 25th anniversary at Nationwide Arena. The team plans to continue learning from and listening to their fans' feedback so that they can improve the Fan Zone experience each season. They hope to discover more unique ways to tell the team's story and celebrate their success on and off the ice.
In addition to using this space on game days, they also intend to utilize the space for other events like corporate meetings, birthday parties, and more. This would drive in additional revenue and could also be a great way to introduce the game of hockey to new audiences! Check out this video to see the Fan Zone in action: https://mvp-interactive.com/blog/columbus-blue-jackets-fan-zone/