By Belinda M. Paschal
January 23, 2023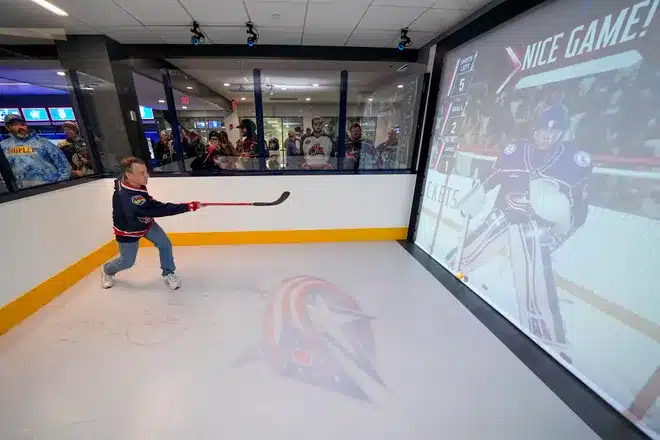 The Columbus Blue Jackets have unveiled a new hockey Fan Zone designed to give hockey lovers of all ages such immersive virtual experiences as blocking pucks like their favorite goalies and posing for photos with their favorite players.
The result of a partnership between the National Hockey League franchise and Philadelphia-based MVP Interactive, the 4,000-square-foot zone is on the main concourse at section 118, overlooking the OhioHealth Ice Haus, the Blue Jackets' official practice facility.
Hockey Fan Zone Long in the Making
Conversations about the project initially began in 2019 as the team was gearing up for its 20th anniversary but were stalled by the pandemic, according to Ryan Chenault, vice president of marketing for the Blue Jackets.
"As we turned a corner and games started coming back, we revisited the plan: a dedicated space for fans of all ages to experience the game of hockey and their fandom in a unique setting in a different way," Chenault said.
"We had three goals in mind: offering cutting-edge technology, putting sticks in the hands of fans, and providing an opportunity for fans to have digital takeaways beyond the walls of the arena."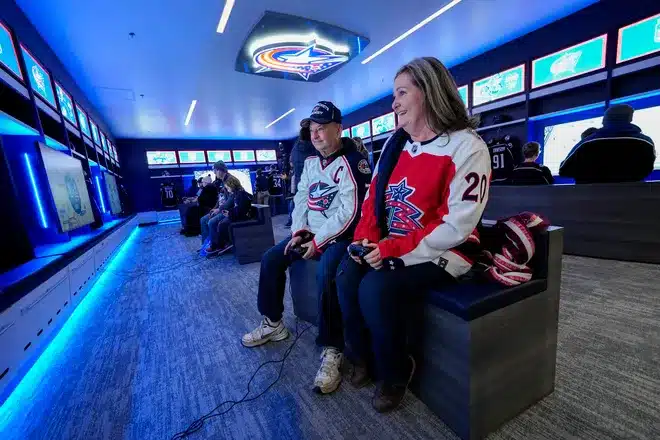 Video-gaming icehounds can take advantage of the eSports Lounge, modeled after the Blue Jackets' refurbished locker rooms and featuring seven gaming bays with either 55- or 90-inch screens to play the latest NHL games on Xbox.
The Fan Zone features plenty of sticks-in-hands interaction, such a Slapshot Challenge in which projection and high-speed cameras give players the chance to use a real stick and ball against a virtual goalie. The challenge offers modes including a speed challenge, target practice, and shooting against a goalie.
"They get to show off their skills as well as get their photo taken and have a memento," said James Giglio, chief executive officer of MVP Interactive.
Another option, the Goalie Challenge, allows fans to play the role of goalie as virtual players shoot foam pucks their way.
For fans who long to meet the players, the Fan Zone offers the next-best thing: a pro-morphing station with kiosks where they can select a player's name and take a photo that appears as if that player is standing next to them. Or if they just want to look like a player, there's an augmented reality experience in which participants choose one of three branded Columbus Blue Jackets jerseys to have digitally superimposed for a photo.
A QR code registration system will allow fans to participate in all of the experiences in the Fan Zone, as well as enable them to share their photos on social media.
"It's all part of the fan experience," Chenault said. "It doesn't cost anything more for (ticket-holding) fans to come in."
In researching what they wanted to offer in the new space, Chenault said he saw facilities with some of the individual features but none with all of them. "We saw bits and pieces, but nothing to this scale in one NHL building. To our understanding, this is one of a kind," he said.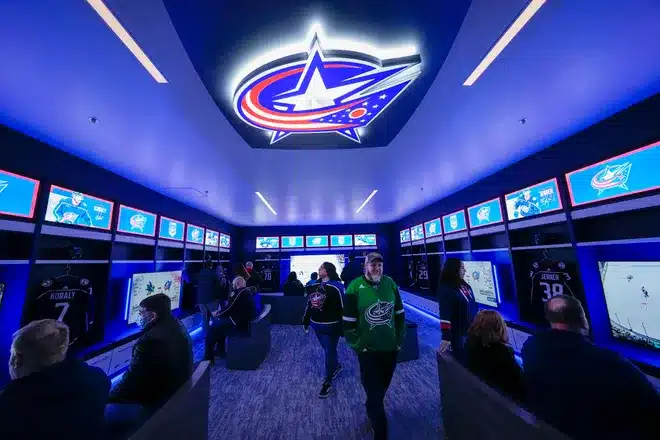 Giglio, who has worked on projects including a digital lounge for the Washington Commanders and an interactive field goal game at the Football Hall of Fame, agreed that the new Fan Zone is unique.
"Not too many venues have the interactive destinations that Columbus Blue Jackets has, certainly not in the NHL. This is the first of its kind. More and more teams have to focus on what the endgame is, what can they do to create more of a full-day experience," Giglio said.
"The Columbus Blue Jackets understand that and understand their community. This addition is going to take it to the next level."
While he declined to divulge the cost of the Fan Zone, Chenault said, "It's a significant investment – one we're committed to for a long while."