By Eric Fisher
July 25, 2016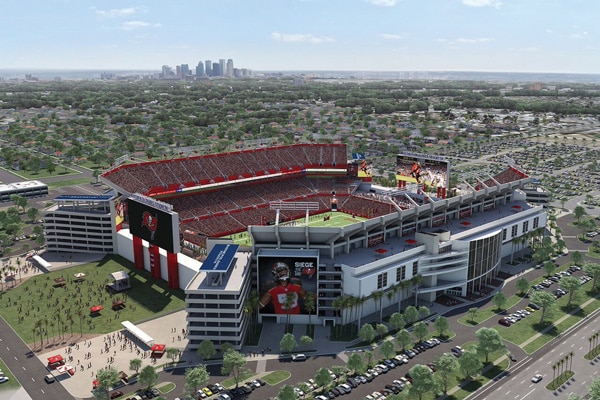 The team has opened its New Raymond James Stadium Experience, which includes a preview center at its training facility and a companion website showcasing the more than $140 million renovation to Raymond James Stadium. The first phase will be ready for the coming NFL season.
The initiative offers a 360-degree visualization of the renovations developed with Philadelphia-based MVP Interactive and featuring quarterback Jameis Winston. MVP Interactive, which built the virtual tour of the revamped stadium, also works with four other NFL teams and the league itself.
Four other virtual reality initiatives are being developed by the Buccaneers:
■ A partnership with Boston-based XOS Digital, recently purchased by Australian sports analytics firm Catapult in a $60 million deal, to use virtual reality for coaching in the football operations department.
■ Using exclusive, behind-the-scenes content developed through that XOS Digital partnership to create a dedicated virtual reality channel on the Buccaneers' official mobile application.
■ A partnership with Kansas City-based virtual reality software developer EON Sports to use virtual reality for youth football clinics and similar youth engagement initiatives. The Buccaneers had used EON Sports for virtual reality coaching and game simulation uses, but are now working with XOS Digital for that component and continuing with EON Sports for the youth efforts.
■ An incorporation of virtual reality headsets and more custom-produced content into the team's Street Team, which uses a specially equipped recreational vehicle to help promote the team at grassroots events around the Tampa area and central Florida.
The preview center fly-through video of the renovations also includes specially made "Madden NFL" animations produced by league video game licensee EA Sports.
The team's virtual reality initiatives in most instances will be operational for the start of the coming season.
"We're looking to be as innovative as possible and be a leader in this space, and frankly, we see a lot of opportunities in VR," said Brian Killingsworth, Buccaneers chief marketing officer. "We looked at lot of best practices not only in sports, but out of sports, and are focusing a lot of energy on this space."
NFL teams use virtual reality for coaching, sales or fan experience purposes, but the Buccaneers are arguably unrivaled in using it throughout the entire organization.
Helping fuel the team's rising interest in virtual reality were the installation of more than 28,000 square feet of video boards in the stadium renovations, nearly seven times more than the team's prior video displays and third most in the NFL, and a rebuilt sound system. "That kind of radical change to our visual and audio capabilities simply did not lend itself to being depicted just in text and photos. It wasn't going to be enough to really tell the story," Killingsworth said.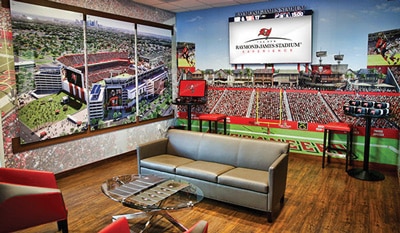 The team declined to detail its total investment in the virtual reality projects, but Killingsworth called it significant. There will be revenue developed to counter that, since ticket sales are a primary goal of the New Raymond James Stadium Experience, and the team may look to sell naming rights to the new all-inclusive Hall of Fame Club, a key element of the Raymond James Stadium renovations and one prominently featured in the team's virtual reality content.
Content sponsorships around the VR material are not currently on the front burner, but also may be ultimately developed.
James Giglio, MVP Interactive chief executive, said the Buccaneers work involved an unprecedented stitching together of several different pieces of content to create the VR experience between film of Winston, three-dimensional stadium renderings, and game footage appearing on the virtual scoreboards.
"I think this is going to replace the cold sales call," Giglio said. "This is a really powerful sales tool, and for the fan, it really gamifies the entire experience."