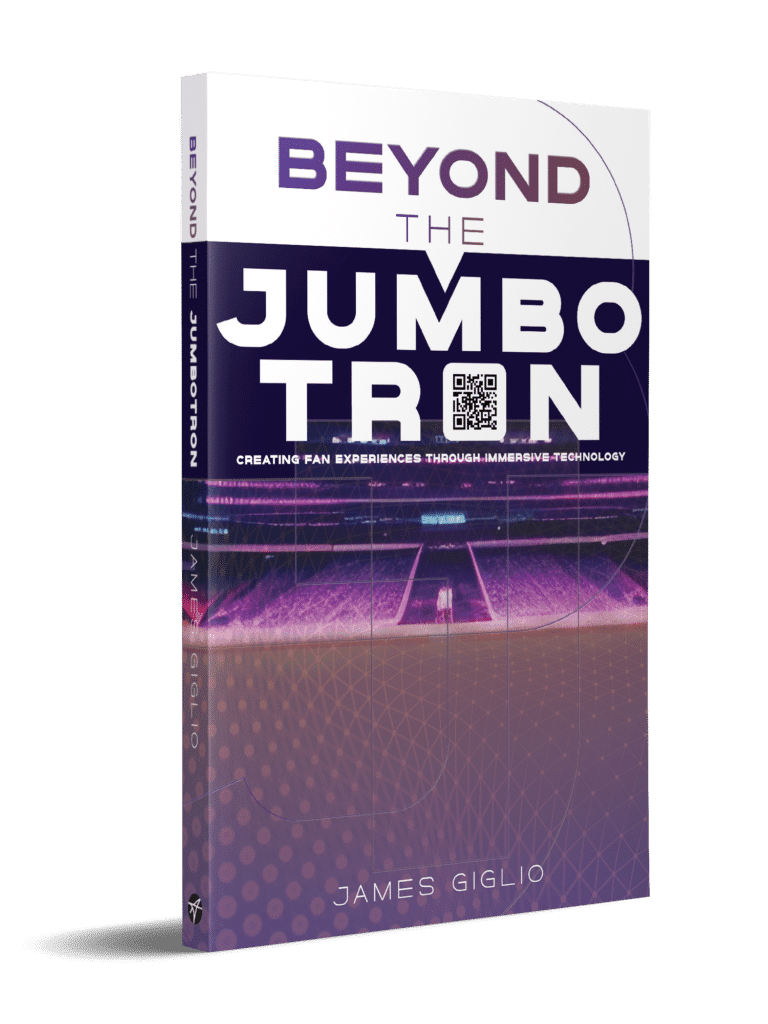 PHILADELPHIA, PA. – In an era where fans are seeking more than just the traditional game-day experience, industry leader James Giglio, Founder and CEO of MVP Interactive, unveils his latest book today, "Beyond the Jumbotron," that explores the ever-evolving landscape of fan engagement.
Today's fans, particularly millennials, seek immersive and interactive experiences, rendering traditional advertising approaches outdated. Beyond the Jumbotron not only recognizes this shift but also provides a roadmap for a new era of fan engagement, where fans are integral to the experience.
"We're transitioning from mere ad placement to immersive engagement. This book offers a glimpse into the future of marketing and fan experiences. I'm excited to share the principles that have powered MVP Interactive's success and inspire others to transform how they connect with their audience."

James Giglio, CEO and Founder of MVP Interactive
From his childhood dreams in Ocean County, New Jersey, to his experience with a New York advertising agency, he noticed three significant trends: the explosion of iPhone apps, the increasing use of digital signage, and the rise of pop-up events by leading brands. This insight fueled his vision for MVP Interactive, a company dedicated to crafting immersive consumer experiences. Over the years, Giglio's team has completed 200+ projects, collaborating with leading brands, sports teams, and leagues, including Coca-Cola, Audi, MLB, and NBA.
The book not only unveils the "why" behind the adoption of immersive technology but also provides a comprehensive guide on the "how." Packed with real-world case studies, the book illustrates the boundless possibilities of new technology, with this just being the beginning. As live events make a triumphant return post-Covid, the book's launch is impeccably timed. It explores a new hybrid world where human interaction and technology seamlessly converge.
Beyond the Jumbotron is a beacon for fan engagement in the 21st century. A guide for sports properties, brands, and organizations seeking to leverage immersive technology for unforgettable experiences and tangible results.
Beyond the Jumbotron is available for order wherever books and eBooks are sold. For more information, visit [www.jamesgiglio.com]. To purchase, click HERE.
ABOUT THE AUTHOR
James Giglio, Founder and CEO of MVP Interactive [www.mvp-interactive.com] , is a visionary in fusing technology with fan engagement. His leadership has led MVP Interactive to create immersive experiences for global giants such as Coca-Cola, Cox, AT&T, NBA, and more.
Media Contact
Natascha French
(310) 714 6914